Manufacture Limited to 420 Bottles
山崎 Yamazaki Single Malt - 瞳 HITOMI
Kenichi Hashimoto, the owner and chef of the famed Michelin-Starred Kaiseki restaurant Ryōzanpaku in Kyoto.
It was due to his fate meeting with Seiichi Koshimizu, the hall-of-fame chief blender of Suntory, which led to him falling in love with Japanese Whisky and creating Whisky Kaiseki, a fusion of Japanese Whisky and cuisine.

The very first privately blended Japanese Whisky which was created by Seiichi Koshimizu for Hashimoto.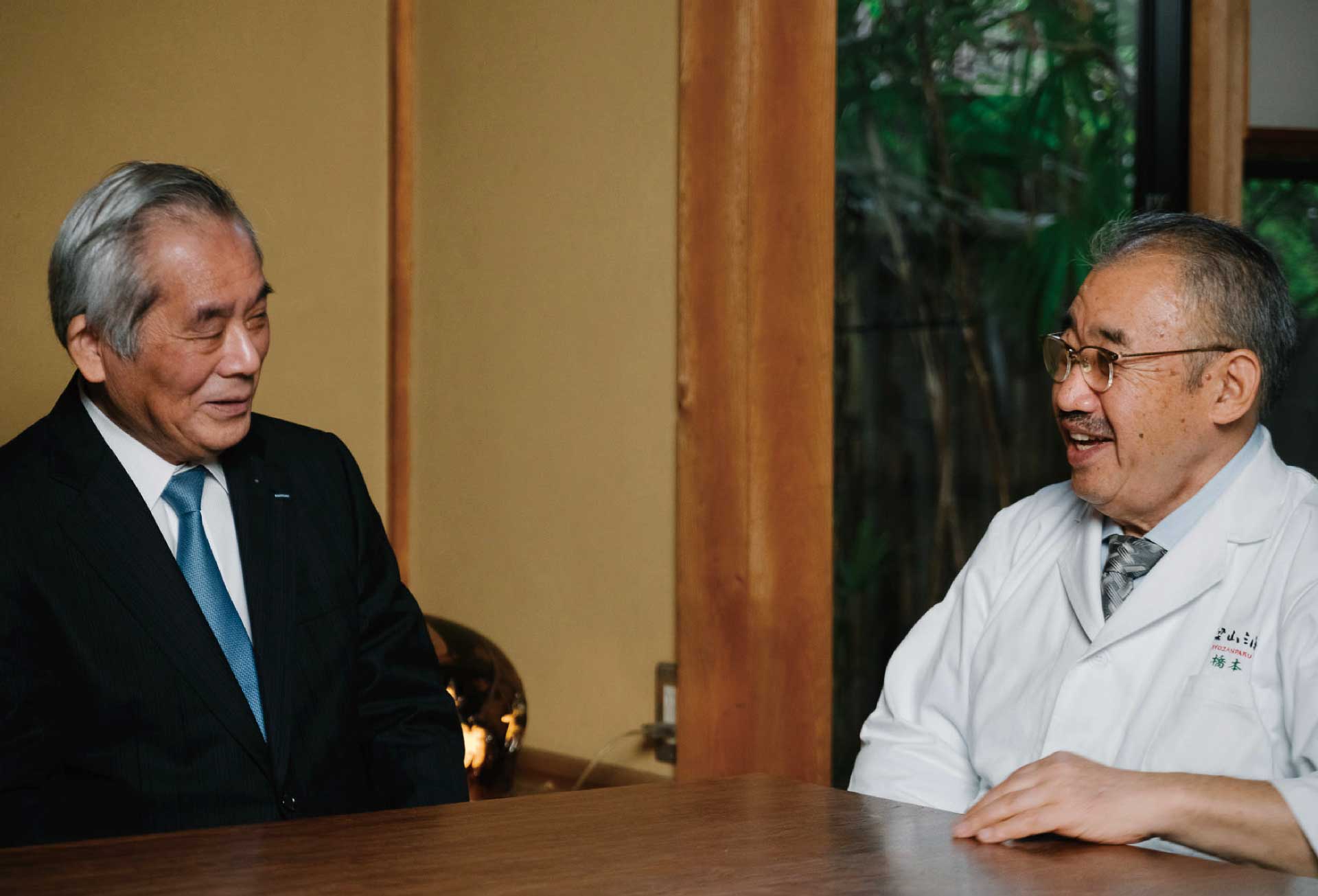 A bottle of whisky Seiichi Koshimizu gifted to Kenichi Hashimoto upon his retirement started it all.
It was during an era in which Japan's whisky market was going through very harsh times. Suntory began a new business of selling entire casks, also known as Owner's Casks, to its clients. Mr. Koshimizu selected and purchased one for himself and gifted portions of it to his long-time supporters to commemorate his retirement.

It was then when Mr. Hashimoto, so struck by the flavor of the Japanese whisky he received, asked to purchase a cask as well, that let to the creating of Hitomi.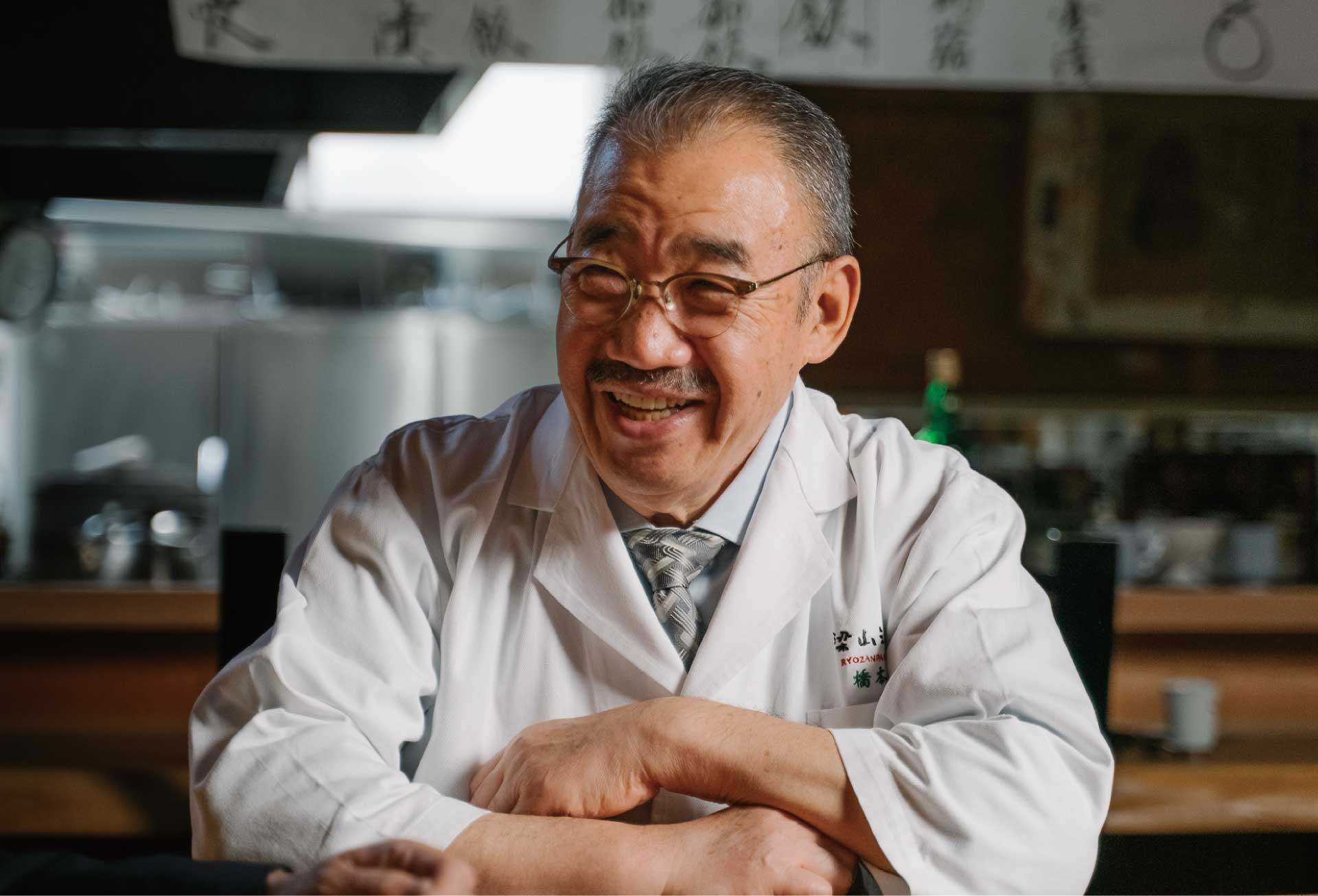 A culinary artist's sense of taste and instinct which brought about the blend.
Mr. Hashimoto visited the Yamazaki distillery and selected a Sherry cask of 59% ABV from 1991. Later during this visit, he sampled a taste of whisky from a 1979 Mizunara cask and wished to purchase that one instead. However, he found that it was far too costly and so resigned himself from making the switch.
But it got him thinking.
"Why did the Mizunara cask whisky taste so good?"

His instinct as a culinary artist was sparked. It occurred to him that perhaps it was that the whisky from the 1991 sherry cask had created a base upon his palate, and when combined with the Mizunara he sampled afterwards, had caused a reaction upon his palate which resulted in such an explosion of amazing flavors.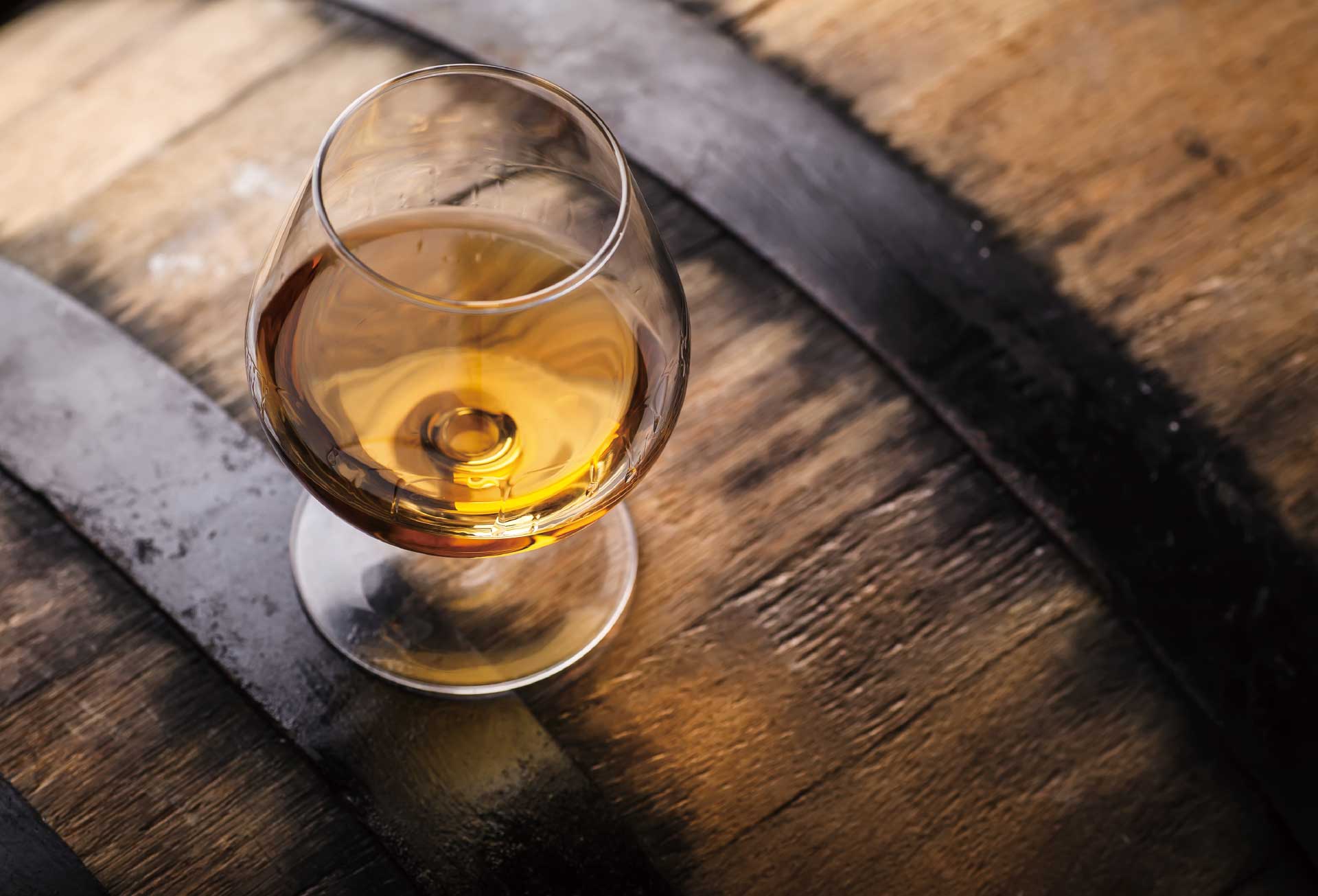 Hitomi, not just any cask, but one with a very special touch.
Mr. Koshimizu listened to Mr. Hashimoto's passionate request and began to plan the blend.

The 1991 Sherry cask was already one of great value and of a quality that did not need any vatting of blending. And the Mizunara which was added to it was actually not the Mizunara cask from 1979 which Mr. Hashimoto had sampled in the Yamazaki distillery, but one from even an earlier decade, from 1960.

It was because Mr. Koshimizu knew that the whisky from a 1960 cask was the most rich in the sandalwood and aloeswood-like aroma, a distinct characteristic of Mizunara.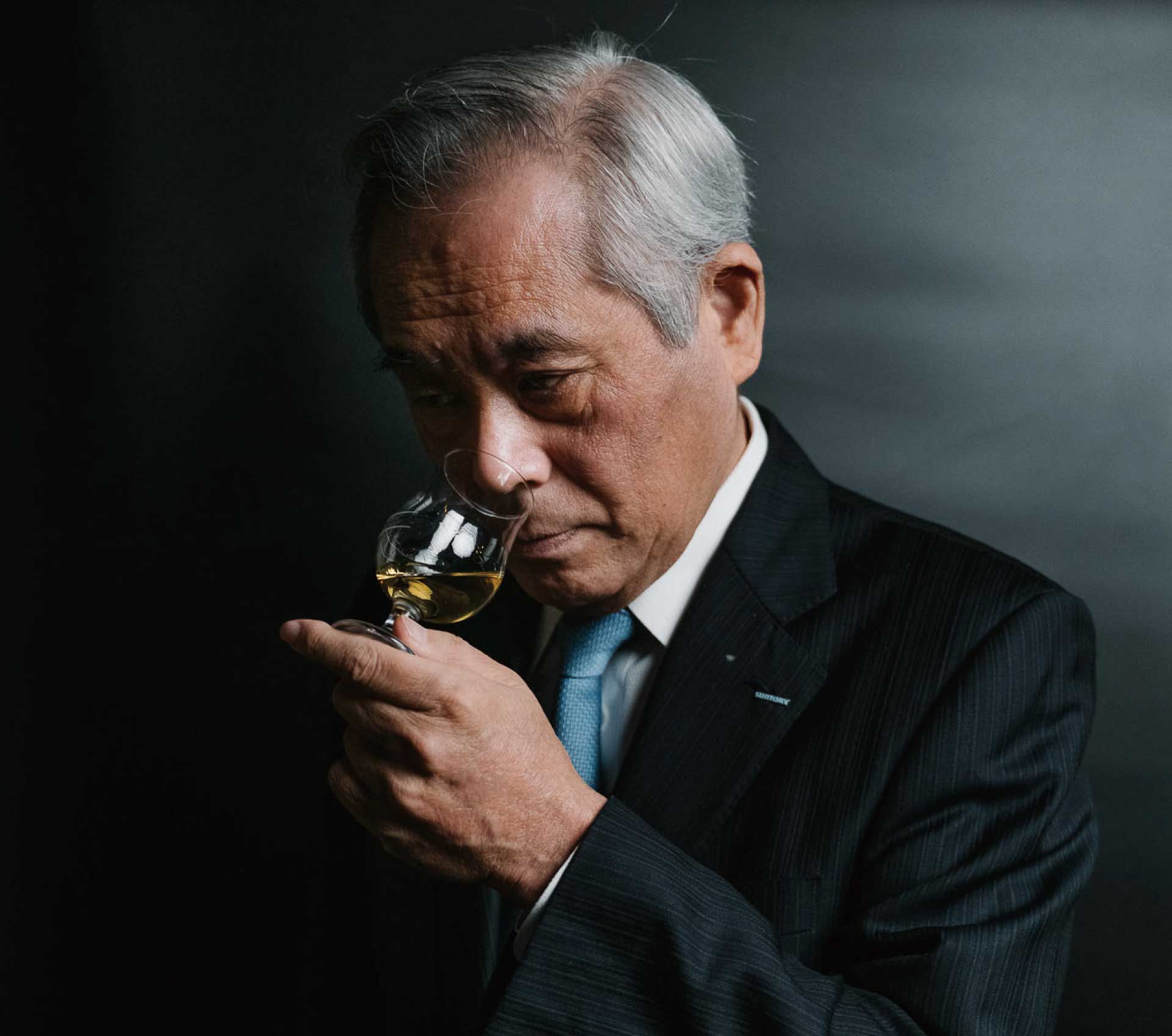 Hitomi's premium Sherry and Mizunara cask which even overseas blenders were awestruck by.
Mr. Koshimizu recalls that Sherry casks have always been something Suntory have been very particular about since its establishment. After many troublesome years of attempting to find the best Sherry casks, Suntory arrived to the fact that we had to make them themselves. First manufactured by a cask-maker in Spain, they were then brought to a Sherry cask wine bodega where they were carefully aged, from where only the best were brought to Japan to be filled with Yamazaki and Hakushu whiskies.

The 1991 Sherry cask is one of a premium quality any whisky professional would acknowledge, and having added whisky from a 1960 Mizunara cask into that, Mr. Koshimizu created a truly one-of-a-kind flavor in Hitomi which has amazed many master blenders and whisky professionals who have visited Ryozanpaku from around the world.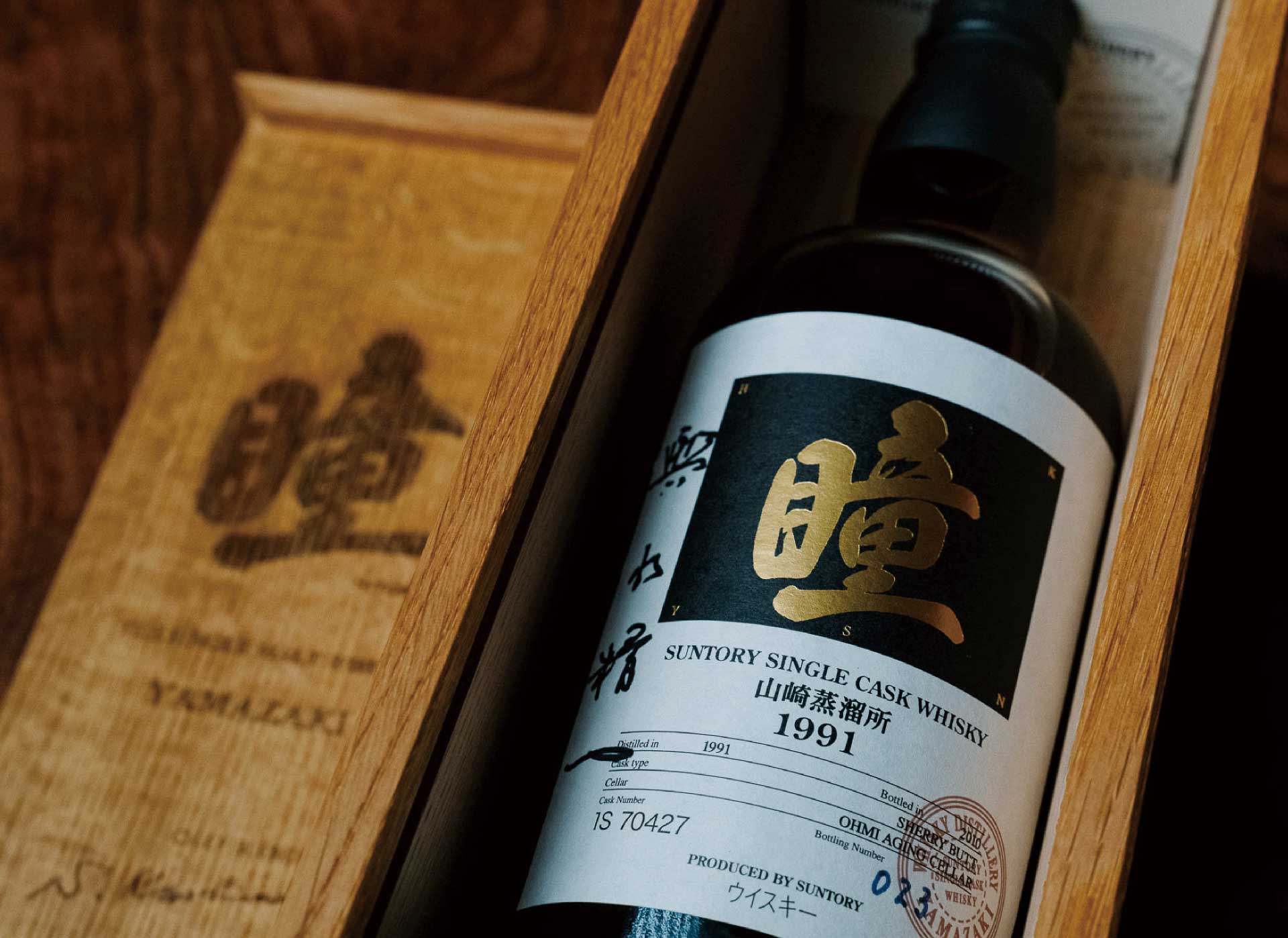 HITOMI.
"HI" for People 人.
"To" for Time 時 .
"Mi" for Flavor 味覚 .
A masterpiece of whisky created by time spent sleeping in a cask combined with the personality of Mr. Koshimizu. A vatting of 2 casks, a Sherry cask aged in Yamazaki distillery from 1991 and a Mizunara cask aged in Yamazaki distillery from 1960. At a sturdy 59% ABV after being aged for decades. A secretly-treasured Yamazaki Single Malt Whisky which combines the best of the 2 base malts. A whisky with a complex flavor which epitomizes Japanese Whisky and a long warm afterglow which reminds you of sleeping in your mother's arms as an innocent child.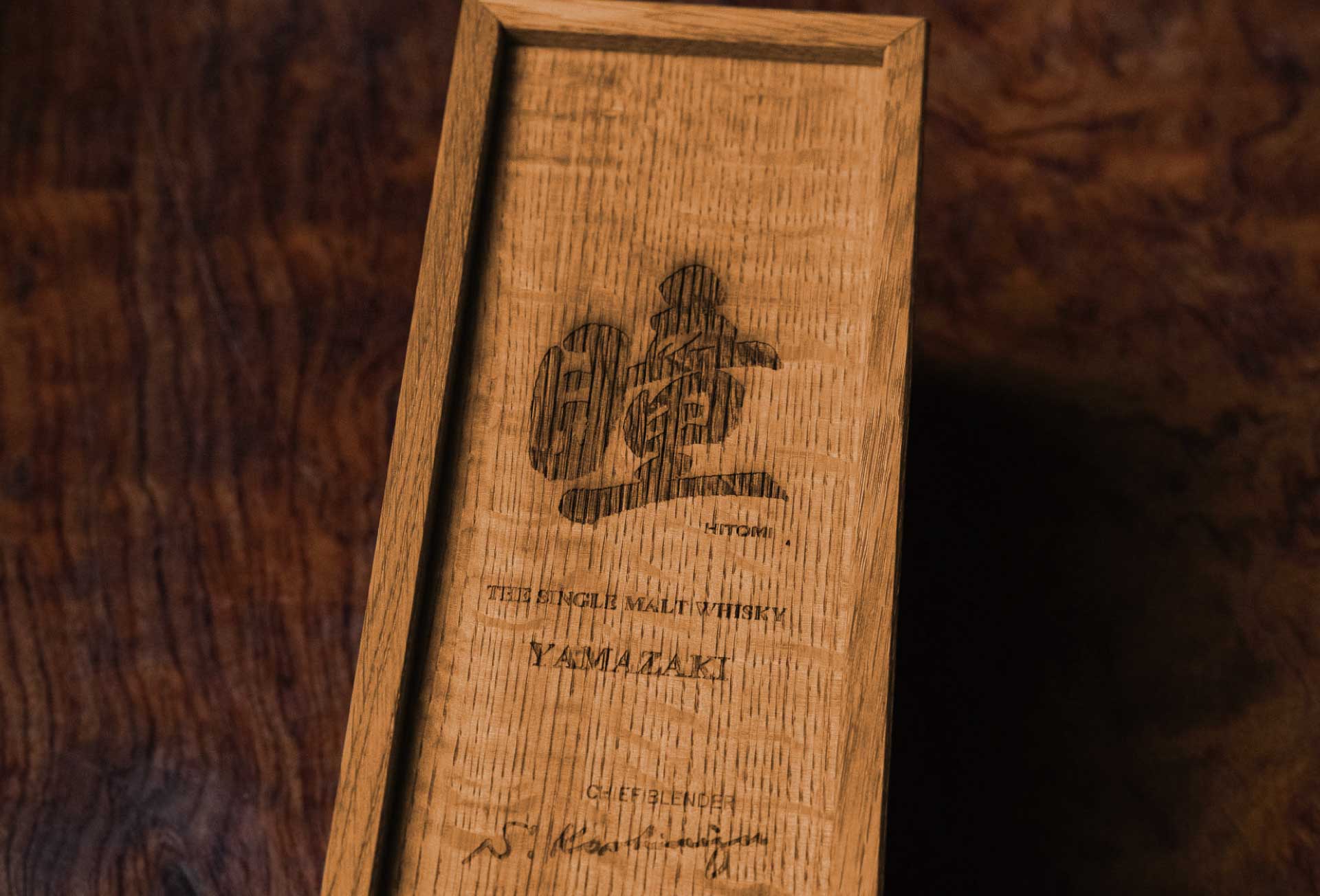 瞳 HITOMI
山崎 Yamazaki Single Malt
It is no exaggeration to say that the Mizunara oak wood used for the box could also have been used to make a Yamazaki cask. The wood handpicked as as the material to create a cask is that of the highest quality, with gorgeous grain. This exactly same premium tiger-striped wood was used to construct this truly luxurious box for Hitomi.

To blenders, the whisky they have blended is almost like their own children. So it is only natural that they would want their child to wear the best attire they are able to wrap them in. So in a sense, this is a very happy whisky.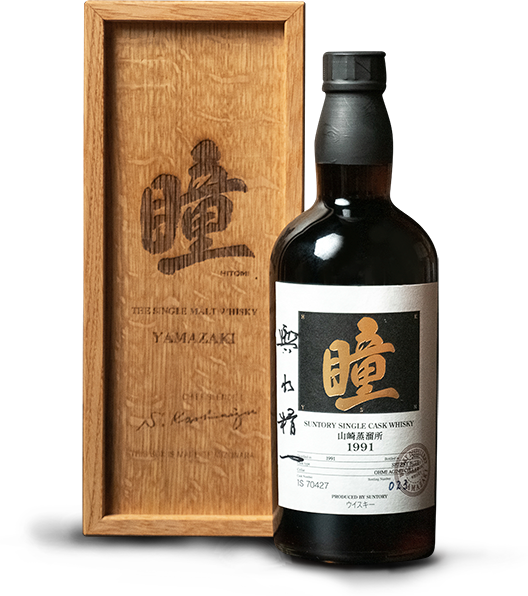 瞳 HITOMI
山崎 Yamazaki Single Malt
Limited to 420 bottles
Quantity: 700ml
Ingredient: Malt
ABV 59%
Licensed by: Kenichi Hashimoto (Owner of Ryōzanpaku / CEO of Haselabo ltd. )
Blended by: SUNTORY CHIEF BLENDER EMERITUS Seiichi Koshimizu
Logo by: Tsutomu Minakami
Manufactured by: Suntory Holdings Limited, Yamazaki Distillery
Auction Results
5/20/2022 - HK$350,000
Bonhams
Presented by: Kenichi Hashimoto, Seiichi Koshimizu, Haselabo ltd., My Concierge Co., ltd.